Ellicott City Wellness Center

Building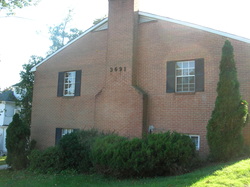 View from the court house parking lot
Ellicott City Wellness Center, the home of Marcia's acupuncture practice and the multi-purpose room, is located in Historic Old Ellicott City. The facility is located just off Main Street two buildings away from the Circuit Court House at 3691 Park Avenue, Ellicott City, MD 21043
---
Directions

From Washington DC take route 29 north to Route 40 east. Turn right at the first traffic light onto Rogers Ave. (It is 1.6 mi total from Rogers.) Stay straight on Rogers Ave.; the road turns into Court House Drive. Pass two apartment complexes on the right, then the road curves left. Pass a small parking lot on right, then drive into the large parking lot on right. At the far end of the lot is the only red brick building, 3691 Park Avenue. It is the second building from the Court House. As you face the building from the parking lot the door on the left is the main entrance and there is a waiting room straight ahead. The door on the right enters onto the 2nd floor; there is a bench in the hallway where you can wait for a treatment.



Marcia's Primary Treatment Room - Located on the 2nd floor
Large Multi-Purpose Room for Rent
Teach, heal, dance, celebrate or network in this peaceful space offering event seating for up to 50 or bodywork tables for 30.
Rental includes use of presentation screen, tables and chairs and massage tables. Secure free parking is available adjacent to the building. Consider our beautiful community room for your next event or ongoing service offering.